The digital magazine can be seen only by subscribers who are logged in.
Have a website login already? Log in and start reading now.
Never created a website login before? Find your Customer Number (it's on your mailing label) and register here.
Not a Subscriber? JOIN HERE
Still have questions? Contact us here.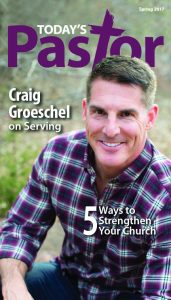 Features
6  Your Serve
by Craig Groeschel
Craig thought it was his ministry until he heard a sermon that drastically changed his perspective.
10  Division or Disagreement?
by David Platt
We should divide for the right reasons, but when does disagreement create unnecessary division?
12   Preach the Word and Get it Right
by John MacArthur
How should pastors respond to pressure to soften the gospel?
14   Who Is Your Pastor?
by Brian Richard
When you need support and counsel, where can you turn for help?
16   Five Ways to Strengthen Your Church
by Percy McCray
Build up your congregation with these practical tips.
16 Leadership Resources
These online tools can help improve your leadership.
Departments
4  Ministry Minute
         The Gospel Is Still Shining Brightly
9  Wit & Wisdom
17  Church Chuckles
18  The Good Word
Help! Lord? Anybody?