The digital magazine can be seen only by subscribers who are logged in.
Have a website login already? Log in and start reading now.
Never created a website login before? Find your Customer Number (it's on your mailing label) and register here.
Not a Subscriber? JOIN HERE
Still have questions? Contact us here.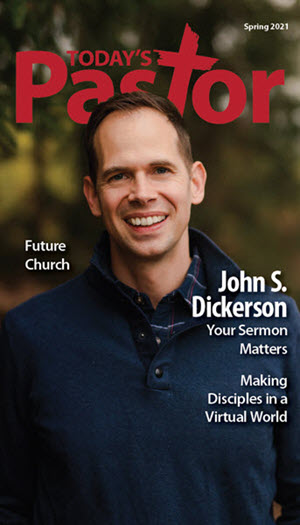 SPRING 2021 VOL. 6 NUMBER 1
On the Cover: Author and pastor of Connection Pointe Christian Church, John S. Dickerson.
FEATURES
6 Your Sermon This Week Matters
by John S. Dickerson
In the daily grind, it's easy to forget the urgency of our sermons. But they make more of an eternal impact than we sometimes realize.
10 Present Uncertainty and Future Church
by Will Mancini
The pandemic revealed weaknesses in ministry paradigms. Discover the critical di erence between a "Lower Room" and "Upper Room" strategy.
12 The New Normal: Making Disciples in a Virtual World
by Don Corder
Transforming the world through Jesus begins with connecting with our neighborhood. Learn simple ways to build relationships with those closest to your church.
14 Navigating the Fog: Clarifying Pastoral Priorities in COVID Times
by Cary Schmidt
COVID took away much of the control we used to enjoy, but that's a good thing if we apply important principles to recalibrate our ministry.
17 "Letting Go" Restores Joy to Ministry
by Christopher Scott
Pastors must use wisdom in responding to criticism, knowing when to ignore it and when to confront it.
DEPARTMENTS
4 Ministry Minute
Follow Jesus' Example: Ask Questions
18 The Good Word
Pushing Back the Darkness