The digital magazine can be seen only by subscribers who are logged in.
Have a website login already? Log in and start reading now.
Never created a website login before? Find your Customer Number (it's on your mailing label) and register here.
Not a Subscriber? JOIN HERE
Still have questions? Contact us here.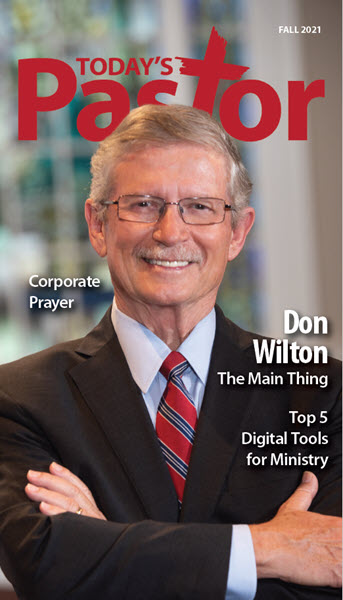 FALL 2021 VOL. 6 NUMBER 2
On the Cover: Don Wilton, author and senior pastor of First Baptist Church of Spartanburg, South Carolina.
Features
6 The Main Thing
by Don Wilton
Billy Graham was committed to keeping the gospel top priority. Don Wilton observed Billy's dedication first-hand for years and points to it as a key to his long-term ministry success.
10 The Practical Theology of Corporate Prayer
by Pat Quinn
Churches typically emphasize music and preaching much more than corporate prayer. Five principles can greatly strengthen this overlooked part of worship.
13 3 Best Practices for Supporting the Lead Pastor
by Jason Sisam
Lead pastors are often overwhelmed by their responsibilities. Learn how executive pastors can help carry their load to make their ministry more effective.
14 Not Forsaking the Assembly
by Jerry Rose
Last year, churches quickly pivoted to digital church. Some have even explored going fully online. But there's a danger in abandoning in-person worship and fellowship.
16 Top 5 Digital Tools for Ministry Efficiency
by Jeremy Scott
These free digital tools can save pastors valuable time and improve their organization and efficiency.
Departments
4 Ministry Minute
Setting Our Faces Like Flint
18 The Good Word
Wanted: Senior Saints to Storm the Hills