The digital magazine can be seen only by subscribers who are logged in.
Have a website login already? Log in and start reading now.
Never created a website login before? Find your Customer Number (it's on your mailing label) and register here.
Not a Subscriber? JOIN HERE
Still have questions? Contact us here.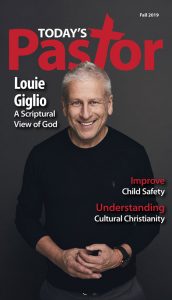 On the Cover: Pastor and author Louie Giglio
Fall 2019
Features
6 A Motley Crew of Gods, and the One Who Stands Above Them All
by Louie Giglio
A proper view of God is foundational to all other theology. If we don't make this central to our teaching, we can't build a healthy, effective church.
10 Understanding Cultural Christianity
by Dean Inserra
What does a cultural Christian need from the church? Find out in this insightful article.
14 Improving Child Safety Starts Within the Church
by Josh Weis
Although the use of background checks has increased, critical gaps remain, which means that children are still vulnerable. Learn how to close the gaps.
16 The Lost Art of Lament
by Josiah Hoagland
The trend is to discourage mourning at funerals. What does the Bible have to say about dealing with loss?
Departments
4 Ministry Minute
Shining a Light on God's True Nature
18 The Good Word
Those Who Are With Us