The digital magazine can be seen only by subscribers who are logged in.
Have a website login already? Log in and start reading now.
Never created a website login before? Find your Customer Number (it's on your mailing label) and register here.
Not a Subscriber? JOIN HERE
Still have questions? Contact us here.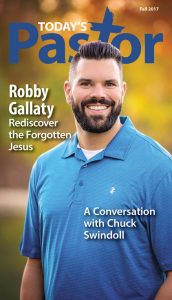 On the Cover: Pastor and author Dr. Robby Gallaty
Fall 2017  
Features
6     Why We Need to Rediscover the Forgotten Jesus
by Robby Gallaty
What did the word "faith" mean to Jesus? You might be surprised how it and other concepts differ from a Western understanding.
8     A Conversation with Chuck Swindoll About Preaching
by Charles R. Swindoll, with Mark Young
Chuck Swindoll shares the challenges and rewards of a lifetime of preaching.
11   The Starting Point Project
by Dan Brownell
Internationally known speaker and author Jay Seegert offers free apologetics presentations.
12   Dealing with Causes
by Trevin Wax
Pastors can be sidetracked from the gospel by unrelenting demands to support various causes.  Learn how to prioritize them to stay focused on ministry.
14   The Gospel According to Indiana Jones
by Peyton Jones
In the Indiana Jones films, archaeology professor Henry Jones experiences life-changing adventures when he leaves his stuffy classroom for the field. So it is with the church.
Departments
4  Ministry Minute
Keep Your Eye on the Ball
11  Church Chuckles
18  The Good Word
Is Your Heart Still Burning?