The digital magazine can be seen only by subscribers who are logged in.
Have a website login already? Log in and start reading now.
Never created a website login before? Find your Customer Number (it's on your mailing label) and register here.
Not a Subscriber? JOIN HERE
Still have questions? Contact us here.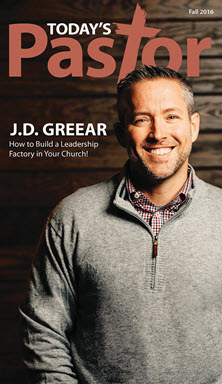 On the cover: Pastor and author J.D. Greear.
Features
6 Gaining by Losing
by J.D. Greer
Discover a simple but powerful principle of leadership revealed in Matthew 28.
10 Moses and Joshua's Contrasting Models of Leadership
by Eric Geiger
One of these men had a much better long-term model of leadership. Which do you follow?
14 Three Ministry Mistakes I've Made and What I Learned
by Alan Briggs
Learn how to avoid these three common but serious errors.
16 Leadership Resources
Tools for ministry, and resources for resting and recharging.
Departments
4 Pastor's Minute
Build a Leadership Factory
12 Wit & Wisdom
17 Humor
18 The Good Word
Your Reward is Great in Heaven!