The digital magazine can be seen only by subscribers who are logged in.
Have a website login already? Log in and start reading now.
Never created a website login before? Find your Customer Number (it's on your mailing label) and register here.
Not a Subscriber? JOIN HERE
Still have questions? Contact us here.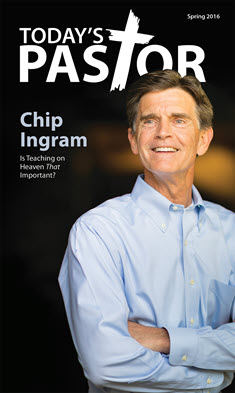 On the cover: Chip Ingram, founder and teaching pastor of Living on the Edge, an international discipleship ministry, and the senior pastor of Venture Christian Church in Los Gatos, California.
4 Editor's Letter
6 Chip Ingram on Heaven
by Chip Ingram
Like most pastors, Chip Ingram overlooked the significance of Heaven. But once he discovered how much strength the hope of Heaven gives Christians in this life, he became a passionate advocate of teaching frequently and accurately on the subject.
10 Rest for the Soul
by Steve Macchia
Secular task-oriented values have become deeply embedded in the church. To be effectively live out the gospel, we must make rest and soul care a top priority.
12 Wit & Wisdom for Leaders
These inspirational words from legendary Christians pack great leadership wisdom in memorable quotes.
14 The Devastating Effects of Internet Addictions
by Andrea Osmun
Internet addictions are destroying families, even those in the church. While only Jesus can truly set people free, a wide range of online accountability software options are available to help prevent addictions.
18 The Final Word