The digital magazine can be seen only by subscribers who are logged in.
Have a website login already? Log in and start reading now.
Never created a website login before? Find your Customer Number (it's on your mailing label) and register here.
Not a Subscriber? JOIN HERE
Still have questions? Contact us here.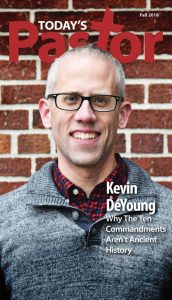 On the Cover: Pastor and author Kevin DeYoung
Fall 2018
Features
6 The Ten Commandments: Why They're Not Ancient History
by Kevin DeYoung
Jesus transformed the Ten Commandments, but He never intended to abolish them. There are at least four major reasons why they are still relevant today.
10 The Lesson of the Big Rocks
by Dr. Robert Jeffress
Learn simple principles and tips for prioritizing your time to make an eternal impact.
12 Conflict Resolution: Four Lessons From Nehemiah
by O.S. Hawkins
Personal, family, and church relationships can get so tangled and knotted that it's tempting to abandon them. But Nehemiah shows us that they are worth salvaging and provides practical leadership guidelines to show how.
16 The Evil Eye of Envy: Crucifying the Sin That Crucified Christ
by Philip De Courcy
Pastors aren't immune from jealousy, especially in our competitive, social-media driven, performance-based culture. Learn how to tame "the green-eyed monster," so it doesn't kill your ministry.
Departments
4 Ministry Minute
Prayer Is Primary
18 The Good Word
From Glory to Glory!